Exhibitor Information
This event is the largest of its kind in the strong market located in the greater Ann Arbor area. It draws around 4,000 visitors from Ann Arbor, Chelsea, Dexter, Grass Lake, Manchester, Milan, Saline, Ypsilanti and beyond. Now in its 28th year, it remains a unique marketing opportunity that businesses rely on and return to. As spring draws near, spaces will be sold quickly. Reserve your space today!

Home Show Location:
Washtenaw Farm Council Grounds
5055 Ann Arbor Saline Rd.
Ann Arbor, MI 48103
Located between Ellsworth and Textile Road about 2.5 miles southwest of I-94
Directions/Map
---
Admission: $5, ages 12 and under are free. Cash only please.
Enter at building G.
---

March 16 & 17, 2019

Saturday 9 - 6 • Sunday 10 - 5
Reserve Space and Exhibit to Thousands of Potential Clients
To see availability and current space occupants:
Chrome & Firefox users: Right-click the link above and "Save link as…"
or open the link, save a PDF copy, and open the file in Adobe Reader.
Questions? Call Andrea Sullivan at 734-996-0100 for booth availability or email asullivan@BRAGAnnArbor.com


---
Marketing of the Event

Over its 29 year history this event has become widely known and is well attended by homeowner's who are serious and ready to begin a home improvement project.
We advertise the Show in leading local media outlets including Comcast, MLive.com & The Ann Arbor News, The Ann Arbor Observer, The Sun Times News, The Lucy Ann Lance Show (1290 AM WLBY), and more. In addition, thousands of free tickets are distributed, and mass emails, outdoor signage, and press releases make it well publicized throughout the region.
Below are resources from our 2018 Show. This information will be updated by January 2019.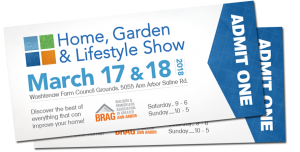 FREE TICKETS TO THE SHOW are now available for exhibitors and BRAG members! We encourage you to help us distribute as many as possible in advance to boost traffic to the Show. Set them in your showroom, include them in invoices to clients, etc. We also have free posters to promote the Show. Pick them up at our office or contact us to request delivery. The BRAG office is at 179 Little Lake, Drive, Ann Arbor, MI 48103  Map/Directions.
FREE Printable Admission Passes are also available to share with the public. Download it here and share this on your social media pages, email it to your contacts and lists, and post it on your websites and personal pages. The link to open this file in a browser is http://www.bragannarbor.net/wp-content/uploads/HGLS-Admission-Coupon-March-17-18-2018.pdf
2018 Home Show Logo, Dates, & Location Graphic Feel free to use this logo with event dates as well. Right-click or drag the graphic to a folder to save it.  The link to our Home Show information for the public is http://www.bragannarbor.net/home-garden-lifestyle-show-public-info/go-to-the-home-show/
---
Exhibitors: RSVP for our FREE seminar on improving your sales process. Click below for details.

FREE to BRAG Ann Arbor members and prospective members. Breakfast is included. You must pre-register to attend this event. You can also pick up free tickets and other show information while you are here. Questions? Call Andrea Sullivan at 734-996-0100 to RSVP or email asullivan@BRAGAnnArbor.com


---
Advertise in the 2018 Event Program
We publish a full color glossy magazine and distribute it in The Ann Arbor News to promote the event. It is also given to everyone that enters the Show as it features a map, exhibitors, and advertising. Members get lower rates on ads. Reserve your ad space now!
Download Home Show Program Advertising Info here.
---
Set-Up and Equipment

Set-Up Schedule: Exhibitors may set up on Thursday, March 15th, 2018 from 8:00 am to 10:00 pm. Setup on Friday, March 16th, 2018 begins at 8:00 am. Download the Exhibitor Set-Up info for the 2018 Home Show Exhibitor Information here.

Exhibitors do not need any passes to access their spaces. During the Show, we require that all exhibitor vehicle be moved away from the buildings, so the public can park closer to the entrance and exit.

Set-up info, material rental, etc. – FREE tickets now available at BRAG Ann Arbor
Pick up as many tickets as you can to help us distribute them. We also have posters and set-up packets. The BRAG office is at 179 Little Lake, Drive, Ann Arbor, MI 48103 Map/Directions.
Material Rental Information: Renting tables, furniture or accessories for your booth?
Download the 2018 Rental Information & Contract for Mid-States Exposition Services here.[/vc_column_text]