WATCH: BRAG Members Explain the Value of Membership

---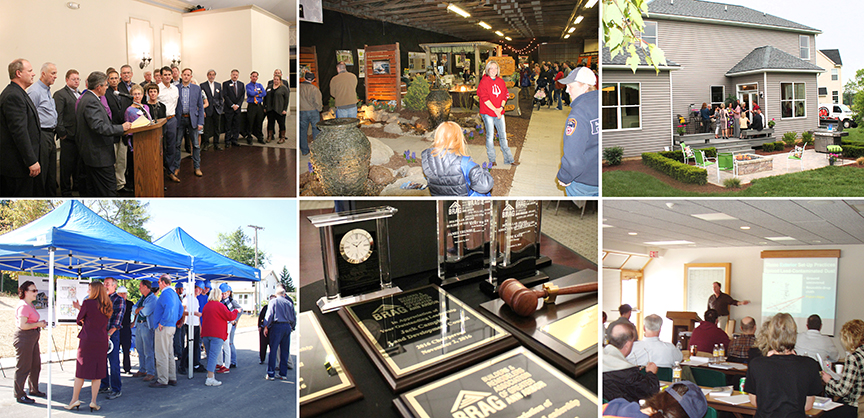 About BRAG Ann Arbor
BRAG Ann Arbor is the professional Association for the home building, remodeling and more since 1956, based in Ann Arbor, Michigan. 
We provide networking opportunities, information, training and events that help businesses improve. We also help consumers make informed decisions and find the right contractors and resources for their homes and projects.
We help members cultivate their crafts and practices in our ever-changing industry and connect with professionals with differing approaches and insights.
The Builders and Remodelers Association of Greater Ann Arbor presents annual events such as the Home Garden & Lifestyle Show each spring, the Parade of Homes each summer, and the Remodelers Home Tour each fall. Our members have helped build our more than just homes and neighborhoods, volunteering their skills and assets to improve our community.
We are a very welcoming group, and encourage potential members to attend one of our member events for free to see what it is all about! Contact us at 734-996-0100, email Pete Nowakowski at pnowakowski@bragannarbor.com, or stop by during regular business hours to our office and event center at 179 Little Lake Drive, Ann Arbor, MI 48103.

---
Prospective Members are Invited to our Events! Prospects are FREE and RSVP is required.

Prospective Members are invited to our networking events and educational seminars.
Prospects are FREE and RSVP is required. Click an event title on our calendar to register or contact us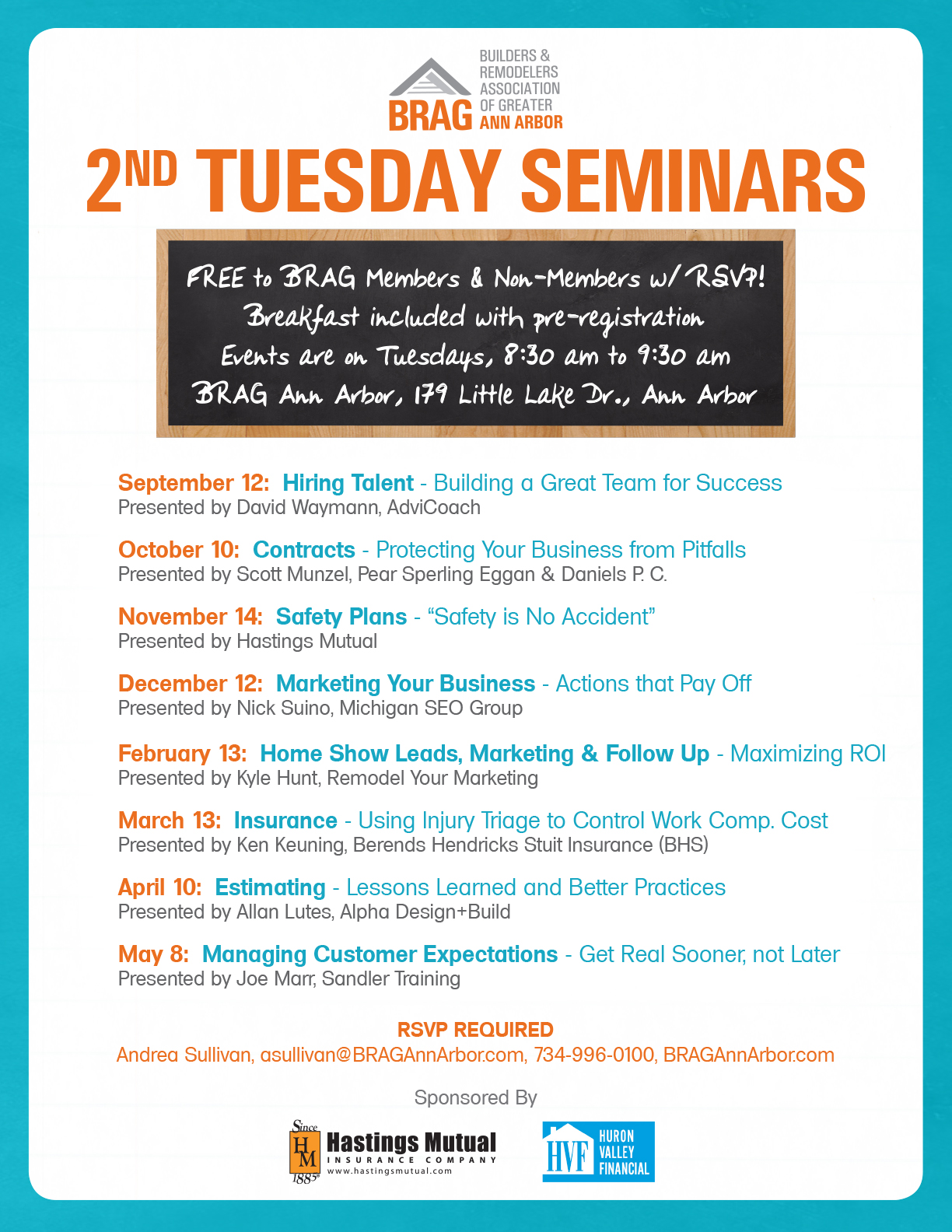 FREE to BRAG Ann Arbor members and prospective members. Breakfast is included. You must pre-register to attend this event.
FREE to BRAG Ann Arbor members and prospective members. Breakfast is included. You must pre-register to attend this event.

View our full online calendar here
---
Download the following materials with information and read below about the benefits of membership.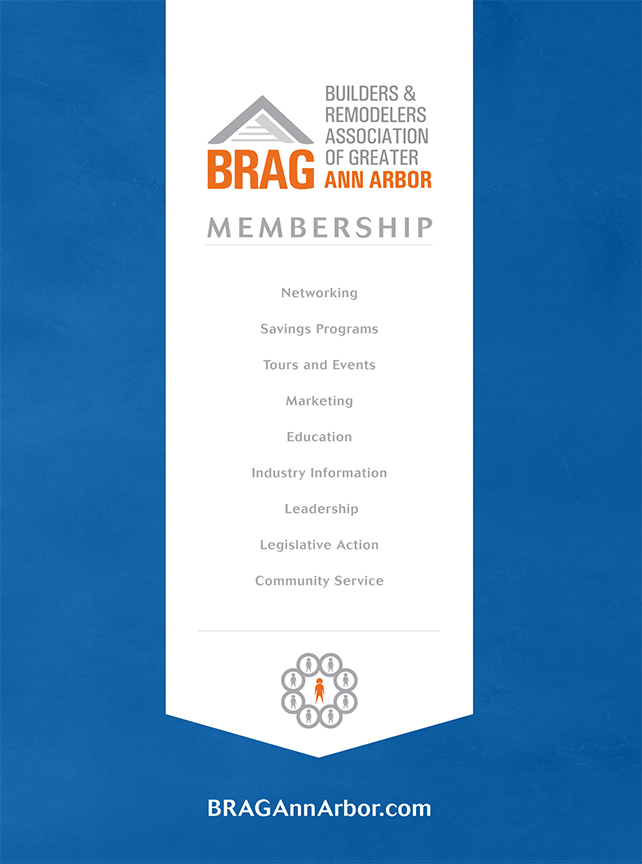 – Application
– Calendar
– Networking details
– Marketing opportunities
– Public events info and more
– General Membership Events
– Associates Council Meetings
– After Hours Networking
– Seminars, Social Events, & More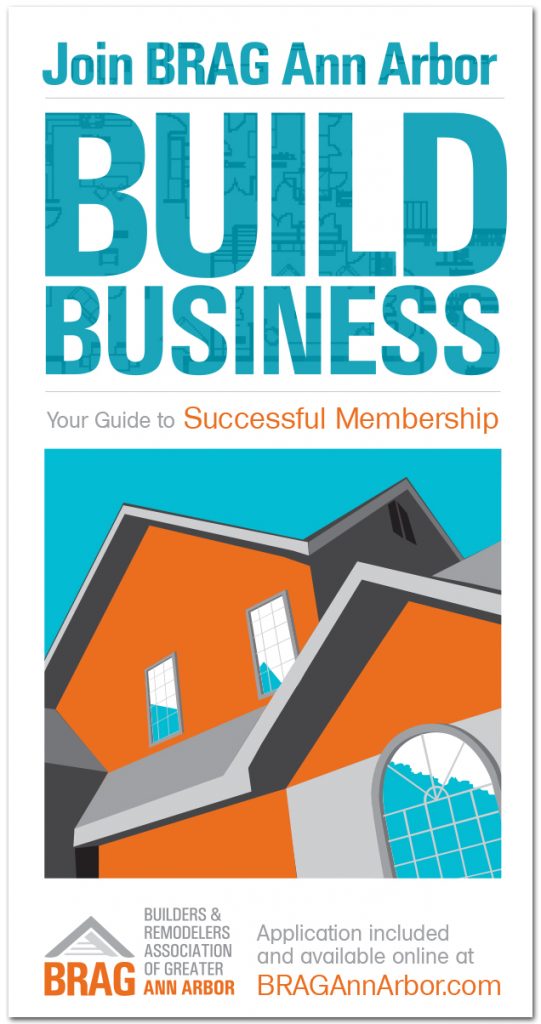 – Application
– Benefits Synopsis and more
– Member Testimonials
– New Member Incentives for those who join by November 1, 2017
Networking
Networking is a critical element for personal and professional development
and for company success. BRAG Ann Arbor provides many opportunities
to help you increase your business contacts.
View our Member Resources calendar of upcoming BRAG Ann Arbor events
Referrals
BRAG Ann Arbor provides referrals to the public searching for professional service companies to meet their home building and remodeling needs. BRAG Ann Arbor can also help you locate other member companies who may serve your needs. It's good to do business with members!
Log-in to your member profile or create a new profile here.
Membership Directory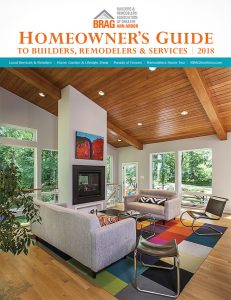 Download the PDF of our 2018 Homeowner's
Guide to Builders, Remodelers and Services
or pick one up at the BRAG Ann Arbor Office.
Over 360 members are listed inside.
View the book with links to advertiser websites here.
Guide Advertising
Place an ad in the Guide, which will be distributed in The Ann Arbor News, at the entrance to The Home Garden & Lifestyle Show, and at various locations throughout the county beginning in February. Ads are due in early January. Download advertising info here.
Questions? Email Pete Nowakowski at pnowakowski@bragannarbor.com or call 734-996-0100.
Submit photos for the cover for FREE!
Download the photo submission info / release form here.
Guide Listings
Members are including in one category in the listings of this publication. Additional categories may be added at $45 each. Please make sure your information and category listings are correct. Confirm or update your company's contact information and business activities online in our Builder Fusion member database. Last year's listings will be repeated if you do not update them. These activities are used both in the printed publication and in our online directory. To submit new info, download the listing form here.
Public Events & Marketing
Members are encouraged to participate in our public events. Take advantage of space discounts for members in the Home, Garden & Lifestyle Show!


March 16 & 17, 2019
Over 125 exhibitors in the Greater Ann Arbor area's biggest Home Show.
More Information

June 22-24, 2018
Our area's finest homes of a variety of styles, shapes and sizes.
More Information


September 29 & 30, 2018
Inspiring homes, products and design from local professionals.
More information
Publication Advertising
Full color and high quality advertising and home information distributed throughout the county. These publications will also be posted online with ads linked to your website or email. Download details, deadlines & rate card.
Opportunities include:
• The Homeowner's Guide to Builders, Remodelers and Services
• The Home, Garden & Lifestyle Show Program
• The Remodelers Council of Greater Ann Arbor Directory (RCGAA members only)
• The Parade of Homes Event Guide
• The Remodelers Home Tour Event Guide
Online Advertising
• Build your brand with a Site Sponsorship!
• Improve visibility with a cost-effective Featured Listing in our "Find a Service or Product" directory.
• Utilize our free social networking opportunities to build recognition and promote your company.
Download full details on all of our online advertising opportunities.

Questions? Call us at 734-996-0100 or visit our Contact Us page with staff emails.
---
---