2016 Photos by Michele Anliker Photography


Our 25th Anniversary and final event was a very special evening with dinner,
silent and live auctions, and fun people who came together for a final celebration in
support of The Salvation Army Staples Family Center in Ann Arbor, Michigan.
The Honorary Chairs were Ken and Marianna Staples, who founded this special event 25 years ago.
They attribute the success of The Festive Affair to the warmth, generosity, and support of the greater
Ann Arbor community, and hundreds of businesses throughout the country that have blessed us with so much.
Thank you for helping so many good people overcome some very hard times and attain self-sufficient, fulfilled lives!

More Photos from Past Events

Thanks to our Sponsors
Diamond Plus (10,000+)
Ken and Marianna Staples
Diamond (5,000+)
Weber's Restaurant & Inn
Ron and Eileen Weiser
Platinum Plus ($3,000+)
Golden Rule Lodge No. 159, F. & A.M.
Detlor Insurance Agency
Platinum ($2,000+)
BRAG Ann Arbor Foundation
Gerald and Rosette Koch
Tanner Excavating
Gold ($1,000+)
Alpha Design+Build
Charles Reinhart Company
Huron Valley Financial
Liberty Title
Bill and Glenna Miller
Tom and Michele Richardson
Maureen and Dick Sloan
Dale and Stacia Suckstorff
Silver ($500+)

A-1 Rental
Ann Arbor State Bank
Bank of Ann Arbor
Big George's Home Appliance Mart
Jack and Darcy Campbell
Chelsea State Bank
Colliers International –
Jim Chaconas and Dick Timmons
Bill Dufek
Fink and Valvo, PLLC
Janet Gilbert-Smith and Doug Smith
Carol Hanna
Chris and Alison Heatley
Howdy Holmes
K & F Electric
Charles and Judy Kyle
Len and Betty Kelsea Lofstrom
The Melvins – Hank, Barb, Shawn, Tanya
Matt and Heidi Miller
Thomas Miree
Charlie and Sheree Moore
Andy Muth and Patricia Saad
Jim Plummer
Steve and Gretchen Schneider
Jeremy and Ann Shaffer
Tidra Staples and Paco Dura
Glenn and Karen Stockdale
Village Kitchen
Washtenaw News Co.
Milton Weidmayer, CPA
Scott and Karen Wiard
Patron ($250+)
David Rhoads
Matt and Tina Sloan
---
2016 Festive Affair Board of Directors
Honorary Co-Chairs and Founders:
Ken and Marianna Staples
Staples Building Company
Madison Campbell
Dexter Community Schools Student
Janet Gilbert-Smith
Norfolk Homes
Steve Gross
Premiere Auction Services
Carol Hanna
Legal Shield

Hannah Harshe
Dexter Community Schools Student
Darlene Howard
The Salvation Army Liason to The Staples Family Center
Jim Plummer
Bank of Ann Arbor
Maureen Sloan
BRAG Ann Arbor
Tom Richardson
Liberty Title
Betty Thierry
The Gilded Lily

Ron Thierry
ProtectCELL
Major Kris Wood
The Salvation Army of Washtenaw County
Major Mary Ann Wood
The Salvation Army of Washtenaw County
Watch: Mini-Documentary Filmed at The Festive Affair
Live Auction Items from a Recent Festive Affair
Photos from a Recent Festive Affair
---
Auction Details for 2016


Auction Items Include:
• Exclusive Experiences & Adventures
• Wonderful Vacations & Getaways
• Memorabilia & Sports Packages
• Fine Jewelry, art, and more
About the Charity

The Salvation Army Ken and Marianna Staples Family Center is more than just a place to stay for the families and individuals who reside there. It is a home with a caring and supportive atmosphere. With the aid of individual casework services, our residents work toward establishing greater self-sufficiency with the goal of being able to move into permanent housing and employment. The Staples Family Center also runs a transitional housing program for homeless veterans in our community, the Veterans Haven of Hope House.
It is only through the support of The Festive Affair and its generous contributors over the past 25 years that The Staples Family Center and its residents have been able to thrive. By supporting The Festive Affair, you are improving lives and strengthening our community. Thank you!
Learn more about The Staples Family Center at SalvationArmyUSA.org or call 734-761-7750. It is located at 3660 Packard Road, Ann Arbor Mi 48108

– The Salvation Army Festive Affair Board
– BRAG Ann Arbor Foundation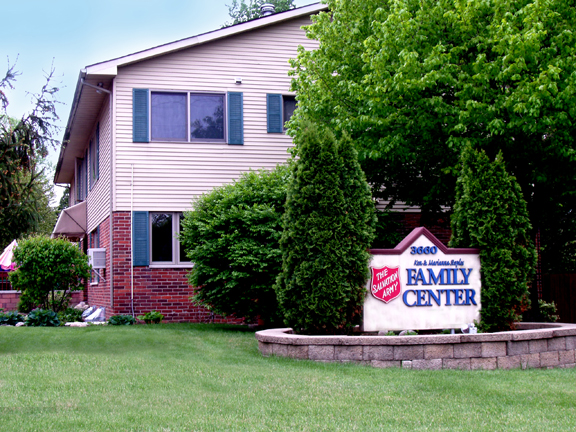 Questions?
Please contact us at 734-996-0100 or email Maureen Sloan at msloan@BRAGAnnArbor.com.
The BRAG Ann Arbor Foundation is a 502 (c) 3 organization. Visit us at 179 Little Lake Drive, Ann Arbor, MI 48103.