New OSHA Silica Rule May Effect You
and Protect Your Workers
A New Rule Requiring Engineering Controls to Keep Workers from Breathing Silica Dust Took Effect September 23, 2017
The Occupational Safety and Health Administration (OSHA) has issued a final rule to curb lung cancer, silicosis, chronic obstructive pulmonary disease and kidney disease in America's workers by limiting their exposure to respirable crystalline silica. The rule is comprised of two standards, one for Construction and one for General Industry and Maritime. Read more on the OSHA website
Also, read a related article for "What Contractors Need to Know" about the new rule.
---
Click an event title to register or contact us
Seminars Eligible for the Required Hours
of Safety, Legal and Code for Licensed Builders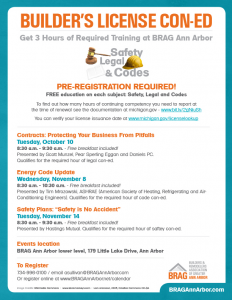 Get 3 Hours of Required Training at BRAG Ann Arbor
PRE-REGISTRATION REQUIRED!
FREE education on each subject: Safety, Legal and Codes
To find out how many hours of continuing competency you need to report at
the time of renewal see the documentation at michigan.gov –
You can verify your license issuance date at
10/10 – Contracts: Protecting Your Business form Pitfalls – Pre-registration and Details
11/8 – Energy Code Update – Pre-registration and Details
11/14 – "Safety is No Accident" – Pre-registration and Details
---

2nd Tuesday Seminar Series

Come to our next 2nd Tuesday Seminar, and enjoy a hot breakfast and insightful discussion.
FREE to BRAG Members & Non-Members with advanced RSVP! Breakfast included with pre-registration.
Events are on Tuesdays, 8:30 am to 9:30 am at BRAG Ann Arbor, 179 Little Lake Dr., Ann Arbor
Questions? Contact Andrea Sullivan at asullivan@bragannarbor.com or at 734-996-0100.
Sponsored by
2017- 2018 Schedule – Click a class title to register or contact us

October 10:  Contracts – Protecting Your Business from Pitfalls
Presented by Scott Munzel, Pear Sperling Eggan & Daniels P. C.
November 14:  Safety Plans – "Safety is No Accident"
Presented by Hastings Mutual
December 12:  Marketing Your Business – Actions that Pay Off
Presented by Nick Suino, Michigan SEO Group
February 13:  Home Show Leads, Marketing & Follow Up – Maximizing ROI
Presented by Kyle Hunt, Remodel Your Marketing
March 13:  Insurance – Using Injury Triage to Control Work Comp. Cost
Presented by Ken Keuning, Berends Hendricks Stuit Insurance (BHS)
April 10:  Estimating – Lessons Learned and Better Practices
Presented by Allan Lutes, Alpha Design+Build
May 8:  Managing Customer Expectations – Get Real Sooner, not Later
Presented by Joe Marr, Sandler Training
Registration
Visit www.bragannarbor.com/calendar and complete the registration process
•  Call 734-996-0100 or email asullivan@bragannarbor.com.
•  You may also visit us at 179 Little Lake Dr., Ann Arbor, MI 48103 (M-F 8 AM – 5 PM)