Members – RSVP for this special event! 
How Do You Compare?  

Performance Metrics of the High Performers

Presented by Victoria Downing

Tuesday, May 1st, 10:00 a.m. – 11 a.m.  

|

  BRAG Ann Arbor, 179 Little Lake Drive, Ann Arbor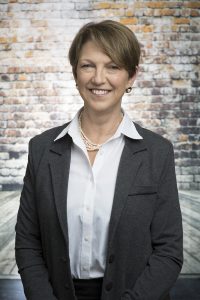 Compare your company's performance with over 200 other successful remodeling companies across the country. Victoria Downing, president of Remodelers Advantage Inc., will describe best practices in sales and marketing, people management, strategic planning and more.
Review real life examples culled from award-winning companies from across the United States and Canada. Learn what the top performers do differently and how they drive their outstanding results.
PRE-REGISTRATION REQUIRED
"We are remodeling's top one percent.
The support and guidance we share with each other has
dramatically changed our companies – and our lives – for the better.
Why? Because isolation is the enemy of success.
We know that none of us can ever be as smart as all of us.
That is why we share. That is why we succeed."
Learn more at remodelersadvantage.com
---
1 Hour Legal Update – Valid credit for REQUIRED Builder's License Con-Ed
Presented by Dan Troyka, Conlin, McKenney & Philbrick, PC
Thursday, May 3, 2018, 8:00 AM – 9:00 PM  

|

  BRAG Conference Room (upstairs), 179 Little Lake Drive, Ann Arbor [Map]
---
Second Tuesday Seminar Series – 2018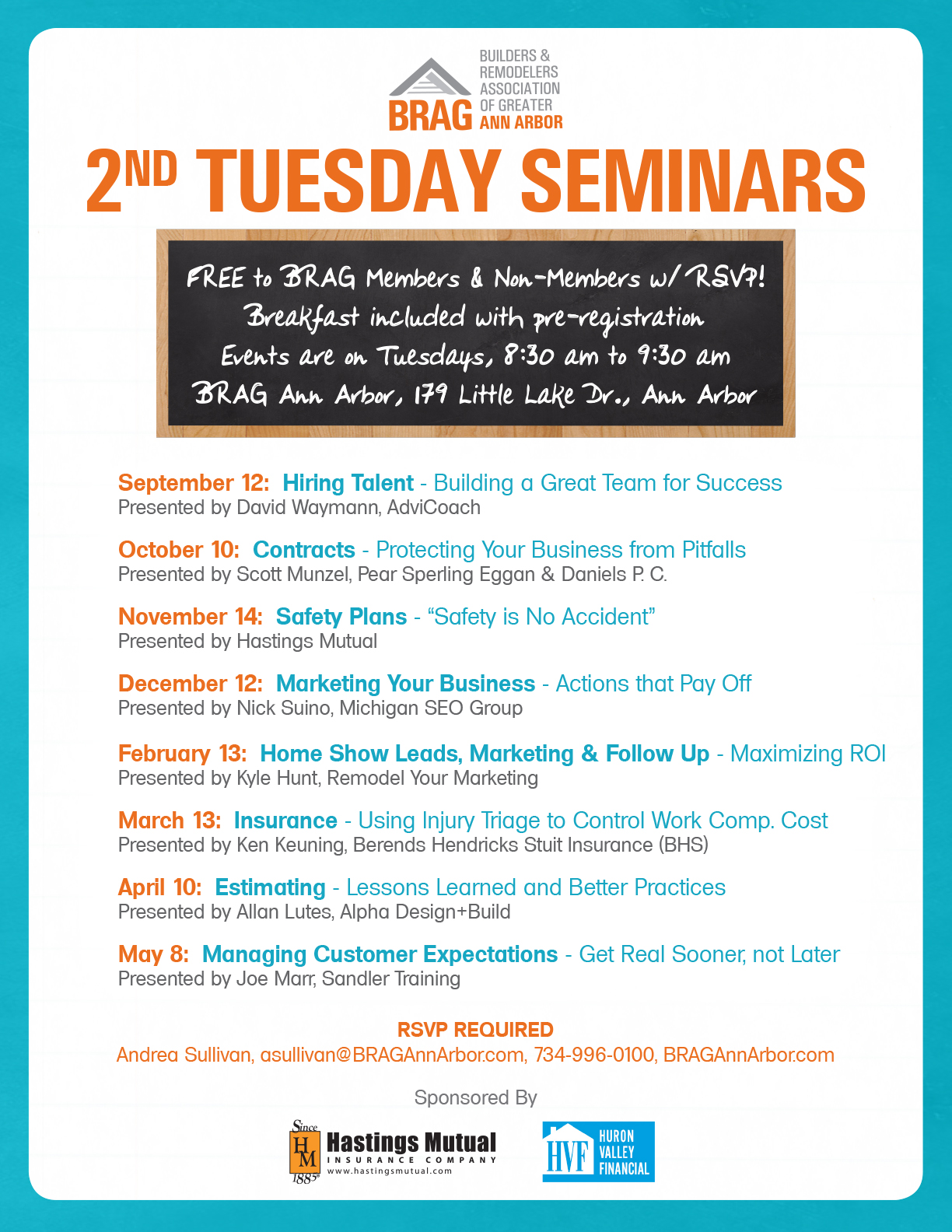 Come to our next 2nd Tuesday Seminar, and enjoy a hot breakfast and insightful discussion. FREE to BRAG Members & Non-Members with advanced RSVP required! Breakfast included with pre-registration. Events are on Tuesdays, 8:30 am to 9:30 am at BRAG Ann Arbor, 179 Little Lake Dr., Ann Arbor
Download the Full Schedule of 2nd Tuesday Seminars
Questions? Contact Andrea Sullivan at asullivan@bragannarbor.com or at 734-996-0100.
Tuesday, May 8, 2018
|
8:30 a.m. – 9:30 a.m.
Presented by Joe Marr, Sandler Training
FREE to BRAG Ann Arbor members and prospective members. Breakfast is included. You must pre-register to attend this event.
Visit www.bragannarbor.com/calendar and complete the registration process
•  Call 734-996-0100 or email asullivan@bragannarbor.com or contact us..
•  You may also visit us at 179 Little Lake Dr., Ann Arbor, MI 48103 (M-F 8 AM – 5 PM)

View our full online calendar here

Sponsored by
---

New OSHA Silica Rule May Effect You
and Protect Your Workers
September 23, 2017 – A New Rule Requiring Engineering Controls to Keep Workers from Breathing Silica Dust Took Effect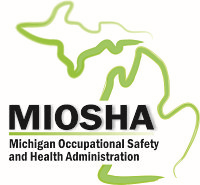 The Occupational Safety and Health Administration (OSHA) has issued a final rule to curb lung cancer, silicosis, chronic obstructive pulmonary disease and kidney disease in America's workers by limiting their exposure to respirable crystalline silica. The rule is comprised of two standards, one for Construction and one for General Industry and Maritime. Read more on the OSHA website
Also, read a related article for "What Contractors Need to Know" about the new rule, or visit MIOSHA online at the LARA site.
---
Economic Forecast for 2018



Archived: January 10, 2018 – BRAG Ann Arbor members explained what is happening locally and nationally.
Thanks to our presenters, Kurt Schmerberg and Pete Hendershot with Affinity Valuation Group, Tom O'Sullivan with Yeo & Yeo, P.C., C.P.A.s & Business Consultants and Eric Bradley with Huron Valley Financial.
The presentation visuals are available here as PDFs on Housing Values and Financial Analysis.
---